Accurate loyalty onboarding in hospitality – Nordic Choice presentation in Paris 2019
Accurate loyalty onboarding in hospitality helps to get many things right. Nordic Choice Hotels presented in 2019 at a industry conference in Paris.
Nordic Choice Hotels have had help from ID24 with loyalty onboarding in hospitality for a number of years. In 2019 they shared their experiences with their industry peers. We prepared a number of shorter clips from the presentation around loyalty onboarding in hospitality and this video has those clips stitched together to share some of the benefits with you.
It is normal to ask the customer to share multiple fields as part of the loyalty onboarding in hospitality. For example name, email, mobile number and maybe even a postal address are all common identifiers.
The more fields you collect the more opportunities you will have to service the customer. You can send email marketing if they optin together with their email. Your most valuable customers can receive a fancy catalog or magazine things home if you have their home address. 
Sometimes you might want to just ask for one field to sign as many up as possible. What Nordic Choice Hotels shared as part of this presentation was the benefit to ask for all fields as part of the initial sign up. The Id24 software is able to present multiple fields to the customer to speed up the registration. This is much appreciated by the customer to spend less time on the registration.
To read more about the loyalty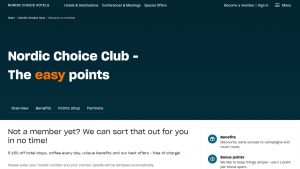 you can read about it on their webpage (link).
What to think about when improving loyalty onboarding in hospitality
If you run a program across multiple countries there are data sources to suggest data for each country. ID24 can help you to determine and suggest sign up flows to maximize the data coming in at the same time as we keep the registration time at a minimum. Each second is important when improving the loyalty onboarding in hospitality.
Fidelity programs in hotels are typically a standard setup where you get bonus and points for each stay. You might have some customers who stay rarely in your properties. And therefore are not too bothered to keep identifying each stay to collect these points. In this case it is important to make it super simple for them to identify. When there are ID24 screens available to the customer they can utilize some waiting seconds to identify themselves and do the look up. If the customer is not present in the system they can re-use the data field they entered to keep signing up. So the barrier to become a new loyalty member just lowered. There are many details in order to make it as easy as possible to sign up. 
Some customers are not too intrigued by the few bonus points offered on an annual basis. In this case Nordic Choice Hotels allow the customer to donate the bonus points to a charity. So this was all customers can accumulate their points to a meaningful charity of their choice.
Many factors around loyalty onboarding in hospitality
So when planning the best way to improve your loyalty onboarding in hospitality projects there are many factors to account. The scheme of perks and benefit is an important part. How this is communicated to the customer who wants to make this decision. Is the sign up process real easy and are the right perks communicated? Will the customer have time to sign up? Is the person working there incentivized to promote the fidelity club?
We see companies in the hospitality industry change their loyalty programmes from time to time. Every leadership and team will have their own ideas to work on. Continuity is of course key. Keeping things simply to your colleagues and customers is another thing to keep in mind. If you could allow bonus point conversion into air miles sounds like a nice benefit to the customer. Will these conversion be difficult to do in practice and make the reward less tangible to the customer in the long run? There will be many factors to balance when getting the loyalty onboarding in hospitality right in the long run. Once you sign up the customer the job begins to maximize the customer lifetime value.
If you are interested to share individual clips from the entire video you can find those here (link).