Discover the interactive customer display solution at Apotek Hjärtat
The interactive customer display  at Hjärtat display the item list of the transaction next to the advertisements and CRM modules. This is a second monitor with a touchscreen attached to the same POS as the main monitor used by the cashier.
In 2018 we rolled out the ID24 software on the existing interactive customer display ("ICD") at one of the largest pharmaceutical chains in Scandinavia to simplify for members to update their optin to follow the GDPR regulation. We were able to make a POS integration without any additional changes needed to the POS software. We wrote Windows drivers to handle the touch events in the best way for both the cashier and the customer inputting their consent on the interactive customer display.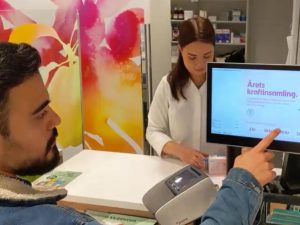 To read more about the company you can read about them on their webpage (link).
Two main interactive customer
display setups
The traditional customer display on a point of sale system can still be found in many places. In some locations it has been updated to also show images. Next generation customer displays will also have a touch screen and allow the shopper to interact during the checkout.
There are a few options so here can be good to mention the two major differences:
1. Interactive customer display as a touch monitor
This device will run on the same CPU as the existing "main" display facing the cashier. Many operating systems only support one cursor so there might be a risk of interference if the cashier and shopper want to input at the same time. This is the ID24 software solution running at Apotek Hjärtat.
2. Interactive customer display
as a stand alone device
Now the device will run on its own CPU which has its own benefits and disadvantages.
Having the device run on its own CPU and graphics card means better graphics. Since this is customer facing you can offer stunning animations to the user.
A few of the challenging things can also be mentioned. Since this device is normally customer facing a cashier would not see when the device is turned off or on. So typically the support cost goes up in this situation. You will also need additional remote support software and licenses for additional devices. Many chains opt-in for a consumer grade tablet as an interactive customer display which should work fine. Some good things to keep in mind is the scalability of such a solution. It can always be challenging when you need to maintain consumer products in an enterprise solution with forced iOS updates and more.
Software available for an interactive customer display
If you are looking for software that works on both above setups you can contact ID24 who offers a second display software bundle. The ID24 Software bundle consists of a number of different software solutions in one interactive customer display product:
Digital signage
Digital signature
Email validation
Forms automation
Kiosk software
If you are interested to learn more on how the dual input touch solution works you can read more about it here (link).
Next generation functionality
As we look into the future we can see these interactive customer facing devices displaying QR codes for payment and go way beyond just displaying the traditional amount to be paid.